Malvin Wandik has been seeing part of his dream coming true since he arrived on Kri Island, West Papua, in December 2015 to learn how to build a helicopter through the Mansoear Flying Club (MFC), an entity cooperating with the Raja Ampat Research and Conservation Centre (RARCC). One of the two helicopters being built by the MFC will be used by the RARCC for conservation activities, such as research with scientists and detection of illegal activities.
"I am sure that some of the students, especially the Papuans, never know about these things and how to build up a helicopter from nothing, zero. I see this and that's amazing. Praise the Lord, because He is doing something. I can see everything that is happening here, like all the processes of building the helicopter," the 23-year-old man said.
The student mechanic has been learning about aircraft and the Bell 47 helicopter. At the MFC's facilities, he has been participating in all the steps of the building process, such as preparing the material, painting, making inventories and repairing parts. For several months in 2013, he also learned from the Associated Mission Aviation (AMA) in Wamena, where he was doing maintenance on aircraft.
But Malvin has bigger dreams. He wants to become a pilot to assist his people, considering that many isolated people live among high mountains and deep valleys in Papua without medical assistance nor education.
According to him, sometimes people have a hard time getting access to medicine, and often die in remote areas that are "difficult to reach," also seeing the need for a good communication system. Even pregnant women need to be carried through the mountains for up to 3 weeks to get to a hospital, sometimes dying on the way, he underlined. Other people need to walk for a week to buy things for daily life.
In remote areas, he added, many 14 or 15 year-olds "still don't have the ability to read, write and calculate", so they will have troubles finding jobs later.
"The government wanted to send me to the USA or somewhere else to take a license to become a pilot, but I decided to learn English" and other subjects like Maths first, he said. So he went to the college to learn the language and, in his fifth semester, he submitted his proposal to the Indonesian government to study in another country, but this time he got no reply.
"I didn't get any reaction from them, so I went to Wamena, but I was still thinking that I have a proposal with the Lord Jesus Christ. I prayed for that for three years and I finally got an answer from Geerten Vreugdenhil," he recalled. The Dutch missionary inspired Malvin from the time we stayed in Landikma, where Malvin was born. Geerten Vreugdenhil, also a friend of the MFC, told him about an opportunity to learn on Kri Island. He accepted the offer, although he had not yet completed his studies at the college.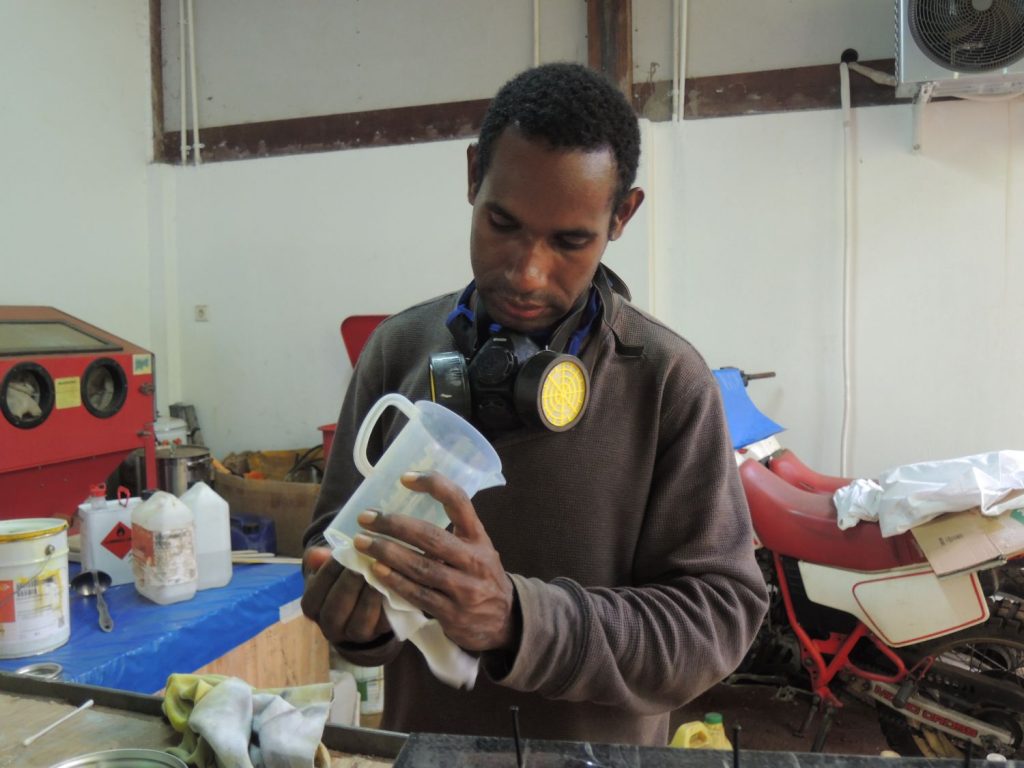 Since Malvin was a child, he travelled from one place to another as well, as his father is a pastor. This affected his learning as he wasn't able to stay in one place for long.
Besides new skills, the Papuan student has been learning work habits. "Some people don't really like to work full time and be on time. For most people in Papua, that's difficult to face, because they have to work slowly," he mentioned laughing.
Another challenge on Kri Island is the logistic system. "Everything has to come by ship", and later it has to be carried up the hill by hand or using wheelbarrows, he explained. The MFC's hangar (owned by the RARCC) is located on the top of the hill. However, he enjoys the "sound of the birds around" while he is working.
In his spare time, Malvin keeps studying and looking for information on the Internet to get funds to study abroad. After all, he "still has a dream" to become a pilot and serve his people.