The RARCC's director Max Ammer participated in the Conservation International 2019 Gala, where the West Papua Province received the Global Conservation Hero Award from Conservation International.
The event took place in Los Angeles, California, on the 8th of June 2019. The gala, themed "Women on a Mission," honoured female leaders and organizations who have been protecting nature for the benefit of people. The magazine Elle co-hosted the ceremony and dedicated the July 2019 issue to women in conservation.
Meity Mongdong, director of Conservation International's Bird's Head Seascape Program, and the West Papua's Governor, Dominggus Mandacan, accepted the Global Conservation Hero Award on behalf of the communities of West Papua, who were awarded for their work for conservation.
On the 20th March 2019, West Papua passed historic legislation to name itself the first Conservation Province in Indonesia. This is the first-of-its-kind legal framework.
With this new regulation, the province puts sustainable development and conservation at the center of any economic activity.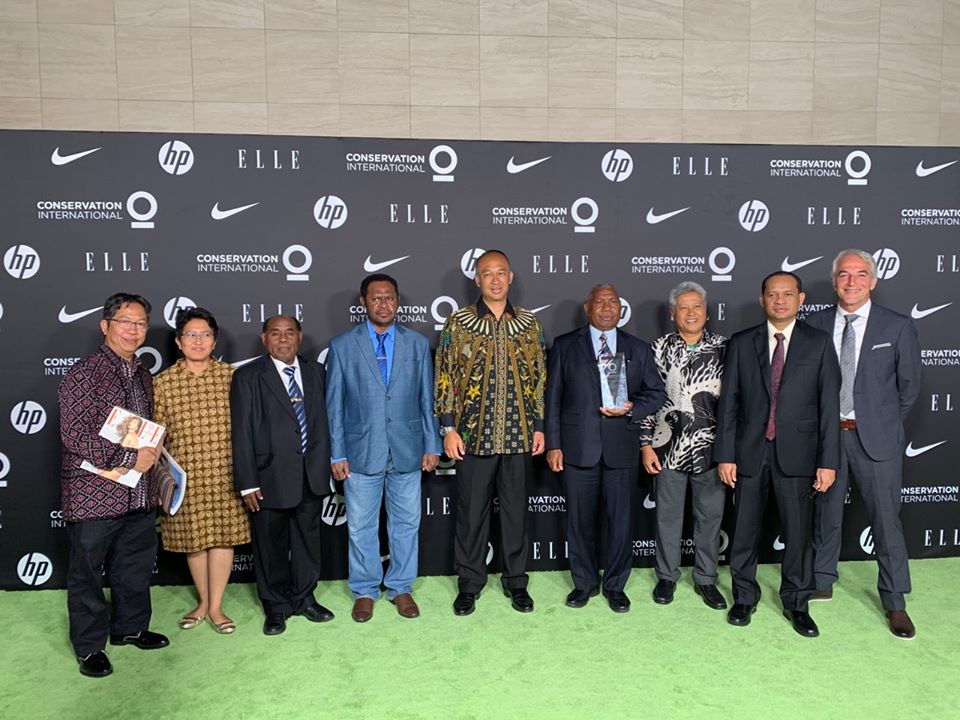 "The award is an international recognition for the efforts of the provincial administration in protecting the forests and the sea, and ensuring the protection of the rights of indigenous people of West Papua, with a sustainable and environmentally friendly development approach," Governor Dominggus said in a statement quoted by the news agency Antara.

The legislation brings together communities, the government, non-governmental organizations, and academics to work for sustainability and development. Read more about this policy here.
The RARCC has been working for conservation since 1993, when Papua Diving was founded, many years before anyone else made that effort, even though the NGO was only legally established as an independent entity in 2009. This includes working for conservation with the Papuan authorities as well.
In 2015, Max Ammer, who is also the co-founder and manager of Papua Diving, got the "Visionary Conservationist Award", granted by Conservation International, for his "tireless efforts to reveal and protect the stunning natural beauty of Raja Ampat and promote its sustainable use."
Due to our conservation initiatives, the area surrounding our centre host the richest diversity of fish in the world. In 2013, 374 different species of reef fish were counted. This is 91 species more than 11 years previously. The two different surveys were done by Dr. Gerald R. Allen.
We thank God for giving us the opportunity to work to preserve His beautiful creation, and to put the richest house reef of the world just in our 'backyard'.