Due to the rates of poverty and poor education in West Papua, which have been leading to harmful practises against unique natural resources, we believe that the best way to help the people to make a living and protect the environment is to teach them to use their resources wisely instead of selling them for cheap prices to companies that don't care about the environment.
We realised that we can't avoid trees being cut down because Papuans need the money. They use to sell each tree for about US$20 to logging companies that use bulldozers and destroy the forest. If they instead cut a tree and made timber out of it, they will get about US$700 per tree. This solution is more environment-friendly because they walk in the forest and they use chainsaws. However, the best solution is to teach the local people to make furniture. This option would give them the possibility to yield about US$3,500 out of that same tree and get more people involved.
On the other hand, there is a huge need for wood and furniture in Waisai, the capital of Raja Ampat.
Massive deforestation is prohibited by law, but the local people are allowed to cut down some trees and sell the timber only locally. They need to get a permission to do so, in order to allow the government to control the production capacity. The government banned the sale of timber outside the region and abroad because Raja Ampat is a protected area.
We buy the wood locally and legally and we teach some workers to become woodwork practitioners. Almost all the furniture used in Papua Diving and RARCC is made at our woodworking workshop.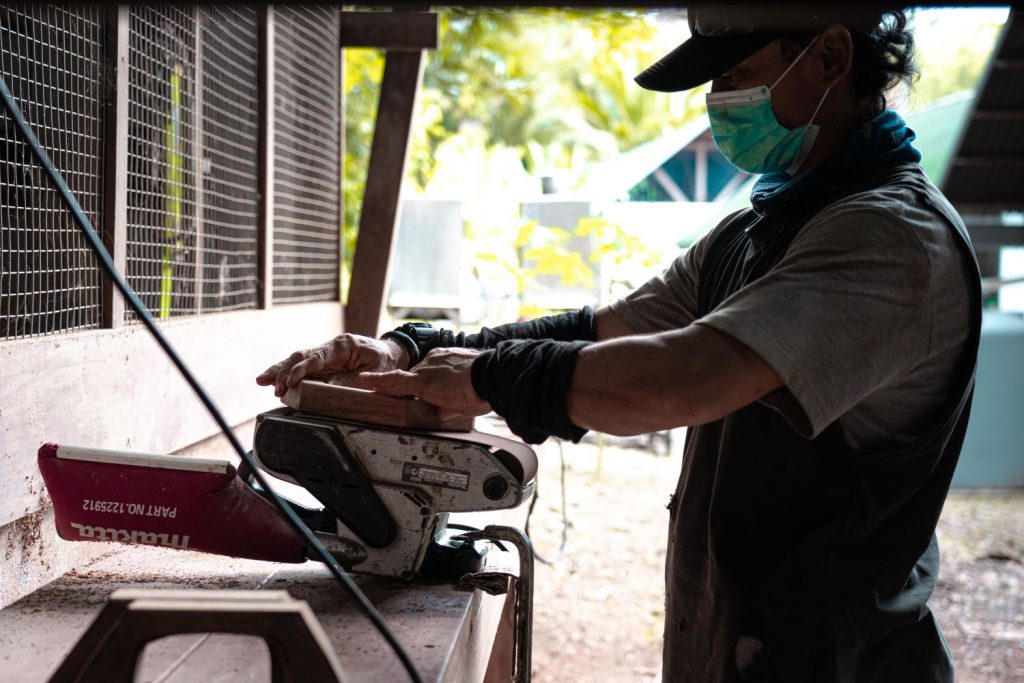 We hope some of our workers will later start their own businesses through a community-based eco-wood harvest system.
We also would like to start a woodworking school to offer vocational training in this field. Besides teaching the local people to work with innovate and ecologically sustainable techniques and machines, we also would like to teach them business skills to sell wisely. From the moment someone starts to get more money from less trees, other people will desire to quickly learn the same. Due to the poor quality of the wooden houses in Papua, we would like to teach them to make environment-friendly houses that last longer as well.